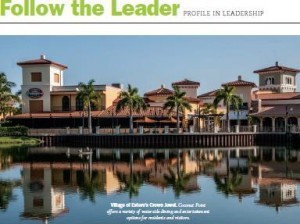 Colliers International, a leading global commercial real estate company, has featured the Village of Estero in its fall Knowledge Leader magazine.
In their Profile in Leadership, the headline reads: "It Takes a Village. The Village of Estero demonstrates how to plan, run and grow a community."   
The article describes how Estero is comprised of many talented, professional retirees who, over the years, have volunteered to help shape Estero into the successfully planned community it is today.
Estero residents voted to incorporate "government lite" in 2014 and for this style of governing to be effective, the spirit of volunteerism must, and does, continue to help drive the community forward.
The article points out that Estero offers a positive environment for businesses, providing great housing options, quality schools (including FGCU), a diverse workforce, recreational amenities and no state income tax.
Interviewed for this article were the Village Mayor Nick Batos, Estero Council of Community Leaders' Chairman Emeritus Don Eslick, and Colliers International's Toronto office Senior Vice President and Sales Representative Tim Bristow, who also owns a home in Estero.
Knowledge Leader reaches Colliers International clients from more than 30 metropolitan cities across North America with a readership of 37,000 print editions and 60,000 online readers.
You may read the article here.