Public Information Meeting – Aldi at Town Center

Representatives for Aldi at Town Center gave a presentation on the changes they have made to their proposed building and site since their last Public Information Meeting.
They are now proposing just one building next to Walmart, and they are no longer requesting a separate entrance to their store.
The 22,000 square foot grocery store has been moved closer to US 41, includes pedestrian interconnects to Walmart and US 41 and the parking lot has been reduced in size. They previously added an 8 foot wall along the east side of the store to buffer the property from the neighboring community The Vines at Estero Country Club.
They have added a metal peaked roof, variation to the roof line, contrasting colors and enhanced canopy.  The hours of operation will be from 8 a.m. to 9 p.m.
This property is located on the east side of US 41 at 19951 S. Tamiami Trail, just north of Walmart.  (Presentation)
The Board's input included the fact that the roofline still has too many straight lines, the overhang at the front entrance should be extended, columns should be added and the applicant should continue to pursue removal of the existing billboard.
Public comment: four residents spoke about their concerns regarding traffic, safety and maintenance pertaining to the connector road which would lead Aldi patrons north to The Vines entrance/exit.
No decisions are made during Public Information Meetings.
Public Hearing – Naples Community Hospital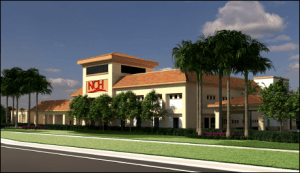 Representatives for NCH Healthcare System presented their application for a Development Order on 3.5 acres located at 22951 and 22961 Lyden Drive in Coconut Trace, just south of Chipotle, on the west side of US 41 across from Coconut Point Mall.
NCH is proposing to build a two-story, 41,664 square foot, $30 million outpatient medical facility.  The building will include a 24/7 Emergency Room, outpatient surgical suites, support services for out-patient care and physician's offices.
It has been proposed specifically as an offsite emergency department for Naples Community Hospital.
The building's design is Italian Mediterranean and would include a rotunda lobby to the second floor along with 179 parking spaces and bike racks.  (Presentation)
Public comment:  Four residents spoke in opposition to this proposal with an NCH physician, who is also an Estero resident, speaking in favor of the application.
The Board denied the application based on the 24/7 hours of operation — Coconut Traces is zoned for hours of operation from 7 a.m. – 11 p.m. — and the architecture did not meet the requirements of the ordinance.
Additional details are available in the minutes of this meeting.  Residents may also view the archived meeting by going to the Village website http://estero-fl.gov/council/watch-meetings-online/.
The next Design Review Board meeting will be at 5:30 p.m., Wednesday, August 9, 2017.