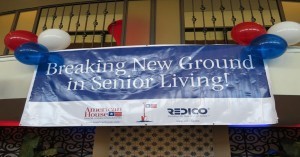 A crowd of 400 was expected at the ribbon-cutting event for the new American House Coconut Point senior living facility on November 3.
Mayor Nick Batos, Vice-Mayor Howard Levitan, Councilmembers Jim Boesch, Katy Errington and Bill Ribble were in attendance along with Rep. Ray Rodrigues, Bonita Springs Mayor Peter Simmons, Estero Fire Rescue Commissioners James Mendolera and Dick Schweers, Lee Health's Director of Special Projects Suzanne Bradach, ECCL Interim Director Don Eslick and Estero Life Magazine Publisher Gary Israel, among others in the crowd.
Prior to the ribbon-cutting, Mayor Batos presented American House with a proclamation from the Village Council.
This new facility, located at 8460 Murano Del Lago, east of Tamiami Trail and south of Pelican Colony Boulevard, offers independent living, assisted living and memory care and  already has 55 residents.
This slideshow requires JavaScript.