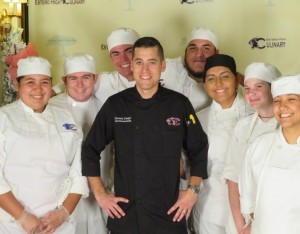 Two hundred twenty-four people turned out for the first annual fundraiser for the Estero High School Culinary Program at the Shadow Wood Country Club on Monday, December 19, 2016.
Chef Educator Jeremy Jasper greeted guests, oversaw the dinner presentation and served as MC for much of the night.
The event began with a cocktail hour with hors d'oeuvres being passed throughout the dining room and culinary students demonstrating their skills, all the while being accompanied by a singer/entertainer.
The Estero High School color guard marched out for the pledge of allegiance prior to the meal being served.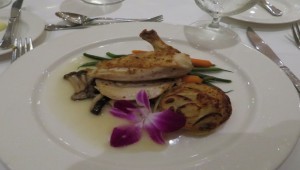 The student-inspired dinner menu included a salad of tossed greens with candied pecans, dried cranberries and curled carrots followed by a pan seared chicken breast with wild mushrooms, potato gratin, carrots and haricot vert.  Dessert was a chocolate covered torte.
The food for the dinner was donated by Mr. Greens Produce and Performance Food Group and prepared with the assistance of Shadow Wood's Executive Chef Richard Crisanti and his staff.  Norman Love also donated a number of his famous chocolates to be were served along with dessert.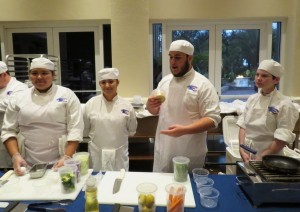 Ticket sales for this event brought in $10,000 for the group.  Additional monies were contributed through the live and silent auctions.  This benefit will generate funds to send the high school competition team to Orlando in March to compete in the Florida ProStart state culinary competition.
The fundraiser will also provide monies to purchase produce for students to work with in class and purchase the necessary equipment needed to upgrade their kitchen in order to become a premier program.
Among the many enjoying this special evening were: Village Councilmembers and their spouses Nick and Linda Batos, Jim and Diane Boesch, Katy and Garth Errington, Howard and Rebecca Levitan, Bill and Joanne Ribble, and Jim and Char Wilson; Village Manager Steve and Carole Sarkozy; Estero Fire Rescue Commissioners Jeff and Bonnie Maas, and Dick and Shirley Schweers; Estero Council of Community Leaders' Interim Director Don and Suzie Eslick, and Finance Director Bob and Ann Lienesch; Estero Chamber of Commerce Chairman Gene Montenieri and Board Director Debi Montenieri, and Board Director Bill and Emily Campos; Estero Historical Society Board members Charles Dauray, Beverly MacNellis, Robert Boudreau, Eileen Galvin, Maryann Weenen, Marlene Fernandez; Estero Life Magazine Publisher Gary Israel; President of the Smith Family Foundation Wayne and Sharon Smith; Lee County Board of Education District 7 Cathleen Morgan; Bonita Springs Area Chamber of Commerce President and CEO Tiffany Esposito and former Bonita Springs Councilmember Dr. Steve McIntosh.
This slideshow requires JavaScript.