Public Hearings
American House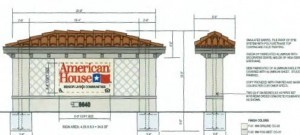 A representative for the American House Coconut Point senior living facility located at 8460 Murano Del Lago, east of Tamiami Trail and south of Pelican Colony Boulevard, described a proposal to construct two open-air carports in the parking area at the entrance to this facility.  The carports would provide coverage for 20 cars, would match the colors of the building and would be screened by plantings.
In addition, they presented proposals for two unlit signs on their property.
Their proposal was approved with a number of conditions, including the use of fire-glazed tile that is proportionate with the building roof tile and limiting the landscaping in front of the signage.
Autumn Leaves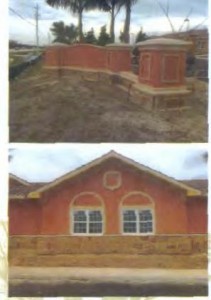 Bill Prysi, representing Autumn Leaves, stated they are proposing to change the primary colors and face of their sign.  The proposed color is a now a red-brown which matches the building versus the white-gray previously considered.
The Board approved, 4 – 2, the color with the condition the banding is increased on the top of the unlit, aluminum, painted sign.
 Shadow Wood Country Club
A representative for Shadow Wood Country Club presented their plans to expand their clubhouse with a 2,963 sq. ft. kitchen addition as well as add 475 sq. ft. to the existing locker room and a 200 sq. ft. addition to the storage room.
The Country Club is located deep within Shadow Wood at The Brooks off of Coconut Road.
The Board approved this request.
New Business
The Board members voted unanimously to have Al O'Donnell serve as vice chairman of this Board.
Additional details are available in the minutes of this meeting.