Coconut Road traffic study
Norman Trebilcock, Trebilcock Consulting Solutions, conducted a 3 ½ mile traffic study of Coconut Road from Estero Bay east to Three Oaks Parkway.  The study was conducted during peak season, February 2016, and at peak morning and evening times.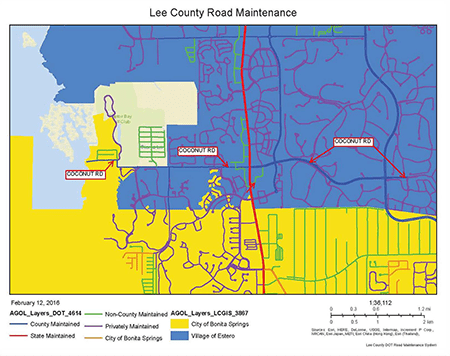 This study examined existing and future conditions of the roadway, which is located in the Village of Estero, Bonita Springs and unincorporated Lee County.  This road is under the jurisdiction and maintenance of Lee County, and the 2035 and 2040 Metropolitan Planning Organization's (MPO) Long Range Transportation Plan indicates existing road conditions will remain as they are, i.e., no improvements are planned.
While the road currently operates at a satisfactory level of service, the section of Coconut Road west of US 41 is projected to fail in 5 years as developments are completed.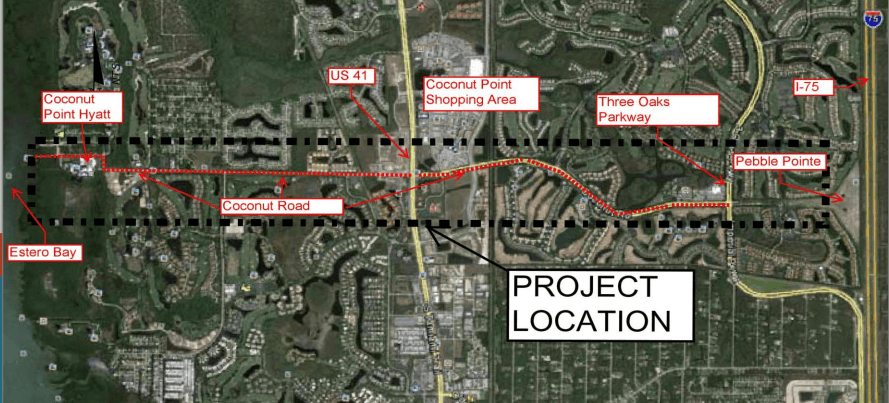 The study recommended several options for improvements to the road west of US 41 which included 4-laning the road at a cost of over $6 million or creating a series of roundabouts at a cost of over $2 million.  It also recommended working with the City of Bonita Springs, Lee County, the Lee County MPO and developers to identify appropriate funding sources for the necessary improvements. (See Presentation)
Planning & Zoning Board vacancy
Planning & Zoning Board member Roger Strelow has tendered his resignation due to personal reasons.  A motion was made and approved to thank him for his many years of volunteer service both to the Village as well as the Estero Council of Community Leaders.
The position will be advertised and interviews conducted in the near future.
Revision to meetings schedule
Starting on May 4, 2016, Council will meet at 9:30 a.m., the first and third Wednesday of the month.
Additional details are included in the minutes of this meeting.