Public Information Meetings
The Springs at Gulf Coast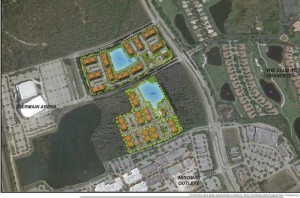 A representative for The Springs at Gulf Coast presented a proposal for 203 units in eight apartment buildings within a gated community.  The two-story townhouses will consist of a mix of studio, 1, 2 and 3 bedroom apartments. Both attached and detached garages are being offered to residents. The Springs community will also have a clubhouse with fitness center and pool and a fenced pet play yard.
The Springs is located on the northwest corner of the future Highland Oaks Drive and Miromar Outlet Drive.
The Club at Grandezza is located near this property, on the east side of Ben Hill Griffin.  Three residents of Grandezza spoke about their concerns for the increased traffic and safety issues and strongly recommended the adjoining communities work together to provide a traffic light at Everblades Parkway.
Coconut Retail Center
Representatives of Bohler Engineering presented a minor change to their 12,187 square foot commercial development.  This new proposal included a 48 square foot patio facing US 41 for their northern building, which has been revised from 4 tenants to 2 tenants.

This project is located at the northeast corner of Lyden Drive and Bulb Lane, south of the new Autumn Leaves memory care facility and across from Coconut Point Mall.  (See Presentation)
Public Hearing
Dunkin Donuts/Valvoline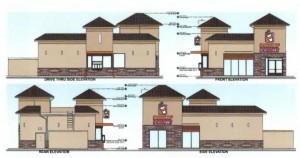 A representative of Morris Engineering gave a presentation on the Dunkin Donuts and Valvoline stores to be located at the Shoppes at Grand Oaks on Corkscrew Road and Ben Hill Griffin Parkway.
The Board indicated additional improvements were needed in the architecture and landscaping for both buildings.  The applicant asked for a continuance to address these concerns.
Additional details are included in the minutes of this meeting.