Four action items were brought before the Design Review Board on August 12, 2015.
Marsh Landing Tree Removal
Marsh Landing's application for removal of 13 trees from their entry was approved.
The president of Marsh Landing's Community Association described how the community wants to remove one dead pine tree and oak trees which are struggling due to being overshadowed by other oak trees in that location. Photos of all of the trees were presented which demonstrated retarded growth, occluded bark and withering caused by the overcrowding of the trees. The community's goal is to cultivate the remaining oak trees to produce a broad canopy in the entryway.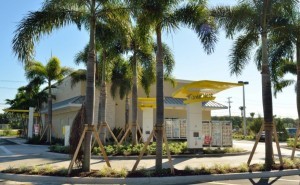 McDonald's at Grand Oaks Shoppes Blvd.
The McDonald's at Grand Oaks Shoppes Blvd. and Ben Hill Griffin Parkway is applying to convert their existing single drive-through to a dual sided drive-through to alleviate vehicle stacking problems and to bring it up to more modern standards.
The board voted on a continuance for this item due to the proposed bright yellow color for the canopy, which does not meet Estero's design guidelines.
Shoppes of Coconut Trace
CFT NV Developments, LLC, is applying to build two adjacent restaurants on part of their land which is located in the Shoppes of Coconut Trace, across US 41 from Coconut Point Mall.
The engineers for this development were asked to return with more extensive design plans for the northeast corner of their proposed building (exposed to US 41), landscaping, signage and dumpster area.
Genova Sales Center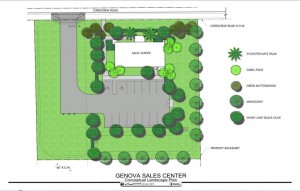 A representative for Genova Partners, LLC, gave a PowerPoint presentation regarding a proposed 2200 square-foot real estate sales office to be located at the northeast corner of their property, which is located on the south side of Corkscrew Road and Via Coconut Road.
Genova is ultimately proposing to build a 205-unit multifamily project in six buildings on this property.
This application was a standalone application for the sales center. It would be a permanent structure, buffered with canopy trees and two royal palm trees at the entrance. This structure would be removed once the complex is completed.
The applicant asked for approval of a reduction in the roof pitch, to be a 4.14 pitched roof. This was approved with the condition that Genova is not vested for their proposed residential development and contingent on the Planning and Zoning Board review of the administrative changes for the sales office. This will be heard by the PZB on August 25.
Further details are available in the minutes of this meeting.