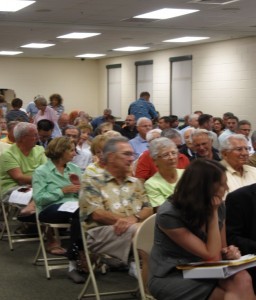 More than 200 Estero residents and representatives of the development community attended the Planning & Zoning Board's (PZB) workshop to hear Bill Spikowski's presentation regarding proposed interim comprehensive plan changes affecting specific areas of remaining open lands in the Village.
Spikowski's amendment changes would support compact, walkable development in the areas most recently known as the "village center", approximately 270 acres of land located in the US 41, Williams, Via Coconut, and Corkscrew Road area, and the "health district" area located around the intersection of US 41 and Coconut Road.
During this interim period, small developments in the overlay area would not be required to provide multiple uses on each site, but the uses provided would need to be complementary and not conflicting.  New definitions would be added for undefined terms such as "walkable," "block," and "mixed use pattern."
Spikowski's report describes the first phase of a year-long formal planning process being conducted by Spikowski Planning Associates.
View the Presentation Slides 5 MB pdf
The workshop provided an opportunity for the PZB to hear from 22 speakers.  Representatives of the development community asked the PZB not to vote in favor of the interim proposal; residents spoke in favor of the plan.
Workshops are conducted in order to allow residents an opportunity to learn about, and comment on, community proposals prior to decision-making meetings.  The PZB will not vote on Spikowski's proposal until their September 1 meeting.
Further details are available in the minutes of this meeting.