The Shoppes at Coconut Trace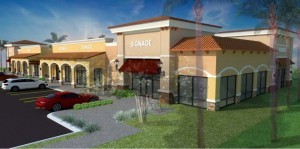 Representatives for The Shoppes at Coconut Trace agreed to a continuance for their proposed project on Lyden Drive and US 41 due to changes required to their landscape plan.  While the applicant was lauded for changes made to the architectural plans for the building, Board members stated the plant materials selected were not appropriate for Estero, some of the proposed trees being deciduous and thus bare during the winter season, so enhancements would be necessary in order to be approved.  In addition, they need to add a sidewalk extension to the southern end of their property. The Board will review this project again at their September 9 meeting.
Marriott TownePlace Suites at Coconut Point

Marriott TownePlace Suites at Coconut Point is a 114-room, extended stay hotel proposed at the northeast corner of Via Coconut Point and Coconut Road.  Representatives for the Alliance Group provided an overview of the building which will be a 45-foot tall, three-story building over a parking garage, with additional parking in front of the building.  The rooms will vary in size from 330 to 635 square feet, include a kitchen, and there is a patio with outdoor pool planned for the eastern section of the building.  According to the presentation, the average length of stay in these hotels is 7 – 8 nights.
Lee County Utilities – Master Pump Station Expansion
Lee County Utilities is planning to expand the sewage lift station currently located at the corner of Three Oaks Parkway and Corkscrew Road.  The current service area starts at I-75 and proceeds west.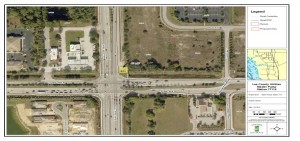 The expansion will allow them to service east of I-75, extending out to the new developments on East Corkscrew Road.
They are considering purchasing a portion of the adjoining property on Three Oaks Parkway to accommodate this expansion and came to the Design Review Board for the Board's recommendations for landscaping designs to accommodate this expansion.  While sewer projects are exempt from some design requirements, they want to work with the Design Review Board to create something the Estero community will be satisfied with.