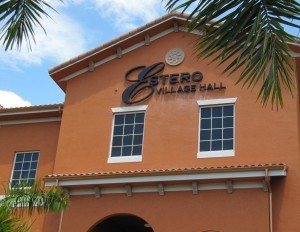 The Village Council will conduct public hearings for the Capital Improvement Plan and Bonus Density Program at their meeting at 9:30 a.m., Wednesday, July 19.
In addition, they will conduct a workshop to discuss the proposed FY 2017-2018 budget and the Village traffic study.
The full agenda is available here: https://estero-fl.gov/agendas/
Village Council meetings are held in the Council Chambers, Village Hall, 9401 Corkscrew Palms Circle, near the entrance to the Estero Community Park.
Residents are invited to attend and comment on agenda items or they may watch the meeting online at: http://estero-fl.gov/council/watch-meetings-online/