Hundreds of students, teachers, family and friends turned out on Saturday, August 5, for the special 3D Invitational track meet at the Estero Community Park to honor Coach Jeff Sommer Day.
The morning started with a proclamation from the Village of Estero presented by Mayor Nick Batos which read, in part: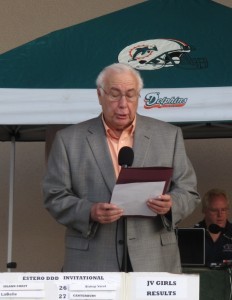 "Whereas, Jeff Sommer dedicated his entire career to nurturing thousands of young students in the Village of Estero and educating them to realize the rewards of discipline, desire, dedication, personal character, teamwork, fellowship, sportsmanship and communication; and
Whereas, Jeff Sommer inspired so many young students of our Village to venture into the world with a vision and determination to pursue their goals and seek their greatness; and
Now, therefore, I, Nicolas Batos, Mayor of the Village of Estero, Lee County, Florida, hereby proclaim that the day of the 3D Invite this year and every year hence forward of the Estero High School Wildcat Cross-Country Team be known as Coach Sommer Day in Estero, Florida…."
Coach Jeff Sommer had served as the Estero High School athletic director and cross country coach.  He led the school to eight cross country state championships prior to his unexpected death at 58 in May of this year.
Many of those in attendance were wearing orange T-shirts, Coach Sommer's favorite color, emblazoned with the three Ds which stand for Sommer's motto: Discipline, Desire, Dedication.
The school has established a scholarship in Sommer's name.
This slideshow requires JavaScript.