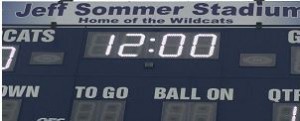 On Friday, September 2, 2016, Estero High School hosted a pre-game ceremony dedicating their stadium to Jeff Sommer.
Coach Jeff Sommer had served as the Estero High School athletic director and cross country coach, and was known for nurturing teamwork and sportsmanship in all of his students. He led the school to eight cross country state championships prior to his unexpected death at 58 in May 2015.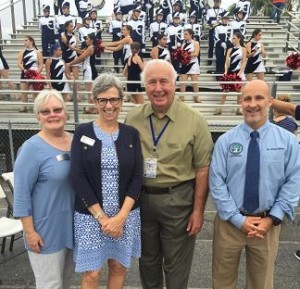 Participating in this special event were (left to right) Lee County School Board District 1 Pam LaRiviere, School Board District 3 Cathleen Morgan, Village Mayor Nick Batos, and Lee County School District Superintendent Dr. Gregory Adkins.
Included in the dedication ceremony was a flyover by the Lee County Sherriff's helicopter. A plaque donated by the Class of 2015 reads: "There is always that one SOMMER that changes you. Couch Jeff Sommer, 12/5/1956 – 5/2/15".
About 3,000 students and parents turned out at 7 a.m., Saturday, September 3, 2016, to participate in the Estero High School Wildcat Cross Country Team DDD Invitational at the Estero Community Park. This was the second annual "Coach Jeff Sommer Day in Estero".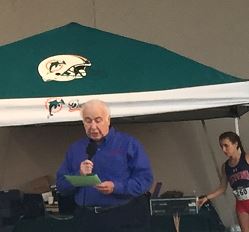 Many of those in attendance were wearing orange T-shirts, Coach Sommer's favorite color, with some emblazoned with the three Ds which stand for Sommer's motto: Discipline, Desire, Dedication.
In his remarks, Mayor Batos stated, "We feel fortunate to live in such a beautiful community, but what makes a community truly special is its people and we were truly blessed to have had Coach Sommer as part of Estero.
"I hope every athlete that races in this race every year, and comes into your stadium for years to come, thinks of Coach Sommer and strives to live up to the 3 D goals that 'COACH' had for us all."