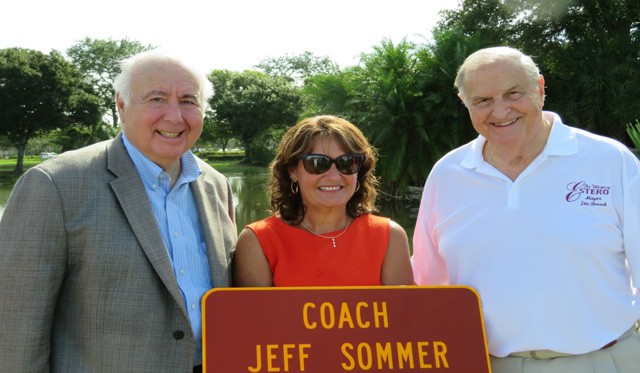 On September 5, 2017, Mrs. Sue Sommer and family were joined by numerous members of the Estero community to celebrate the dedication of the Coach Jeff Sommer Memorial Highway.
The newly named highway on US 41 extends from Corkscrew Road south to Coconut Road.
District 6 Councilmember Nick Batos served as MC introducing State Representative Ray Rodrigues, Estero High School Principal Clayton Simmons, Undersheriff Carmine Marceno, and Estero Mayor Jim Boesch who read a special proclamation regarding the dedication.  Mrs. Sue Sommer and her family then made their comments and thanked the community for this recognition.
Following the ceremony, the Sherrif department's helicopter flew over the newly dedicated highway to the pleasure of the crowd.
Included among the invited guests were: Lee County School Board members, current and past Estero High School principals, students and members of the cross country track team, Florida Department of Transportation members, Estero Chamber of Commerce, Estero Fire Rescue Board members, Estero Council of Community Leaders, Estero Rotary Club, Estero Historical Society, Village Councilmembers and staff.
Many of the students in attendance were wearing orange T-shirts, Coach Sommer's favorite color, with some emblazoned with the three Ds which stand for Sommer's motto: Discipline, Desire, Dedication (3D).
Coach Jeff Sommer had served as the Estero High School athletic director and cross country coach, and was known for nurturing teamwork and sportsmanship in all of his students.  He led the school to eight cross country state championships prior to his unexpected death at 58 in May 2015.
On September 2, 2017, over 1,000 Florida high school runners participated in the annual 3D Invitational at Estero Community Park.  The course, which was designed by Sommer with hills, hay bales and sandpit, was even more challenging this year due to the knee-deep water leftover from the heavy rains from the previous weekend.
In September 2016, the Estero High School dedicated their stadium to Jeff Sommer.  The Class of 2015 donated a plaque in his honor which reads:  "There is always that one SOMMER that changes you, Couch Jeff Sommer, 12/5/56 – 5/2/15".
On August 5, 2015, the Village Council proclaimed the day of the 3D Invitational that year and every year henceforward of the Estero High School Wildcat Cross-Country Team would be known as Coach Sommer Day in Estero, Florida.
This slideshow requires JavaScript.