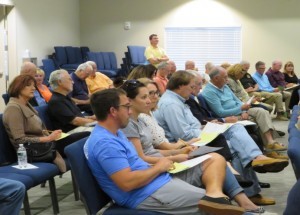 About 150 residents attended a workshop to help develop Estero's first Comprehensive Plan on Wednesday, January 11, 2016.
Residents were given an opportunity to speak about the issues they would like to see addressed in the near future.  Their suggestions included: the need for parks, sports and recreation areas for children, a bike path along Corkscrew Road, a senior community center, affordable housing, median beautification and a civic center.
In addition, those in attendance were given cards on which to write:
What do you like about Estero?
How do you think Estero should develop/change over the next 20 years?
What is your biggest concern about Estero?
These cards were collected and will be addressed at the next planning session, which will be conducted at a future Planning and Zoning Board meeting.
The Village is working on its first Comprehensive Plan, which must be completed three years following incorporation.  Comprehensive plans guide how a community will grow and develop in the future.
With help from the community, the Village has already initiated plans for the Village Center and is now working on prioritizing everything from future roadway needs to protecting special resources, such as the Estero River.
LaRue and Associates and Johnson Engineering are assisting in this planning process.