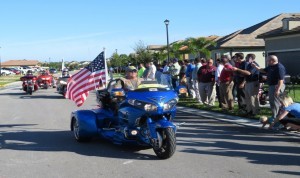 Veterans riding motorcycles and carrying American flags led the Heath family to their new home in Corkscrew Shores in Estero on November 4, 2016.
Last May, retired Marine Sgt. Geoffrey Heath and his young family were presented a mortgage-free home in this community as part of the program called Operation Finally Home.  The home is now complete, furnished and ready for the family to move into.
Among the crowd on hand for this special event were Mayor Nick Batos, Councilmember Katy Errington, Lee County Commissioners Larry Kiker and Brian Hamman, Estero Fire Commissioners James Mendolera, Dick Schweers and Bill Williams.
Following the Pledge of Allegiance, and national anthem, Richard McCormick, Division President of the Pulte Group's South Florida Market, was the first to speak, thanking Sgt. Heath and his wife for the sacrifices they've made for our country.
The home was provided by Cameratta Companies, Pulte Homes and their trade partners.  Operation Finally Home is a program which finds builders around the country that are willing to donate new homes to wounded veterans.
Sgt. Heath, who served in the Marines for 11 years, was wounded twice, once while in Iraq and again when in Afghanistan and was unable to continue his career in the service.
This slideshow requires JavaScript.