On May 6, retired Marine Sgt. Geoffrey Heath and his young family were presented a mortgage-free home at Corkscrew Shores in Estero as part of a program called Operation Finally Home.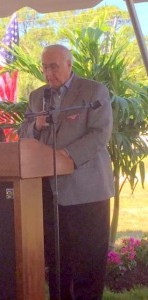 The home is being provided by Cameratta Companies, Pulte Homes and their trade partners.  Operation Finally Home is a program which finds builders around the country that are willing to donate new homes to wounded veterans. Sgt. Heath was wounded twice, once while in Iraq and again when in Afghanistan.
Among those attending this special occasion were Lee County Commissioners Larry Kiker and Cecil Pendergrass, Estero Mayor Nick Batos, and Councilmembers Jim Boesch, Katy Errington, Bill Ribble and Jim Wilson.
Mayor Batos read a proclamation on behalf of the Village Council thanking Sgt. Heath for his brave service and sacrifice for our country and commending the developer, home builder and trade partners for providing a home for this deserving family.