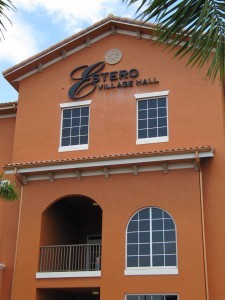 The Village Council will hold a first public hearing for the tentative ad valorem tax rate and budget at their meeting at 5:30 p.m., Thursday, September 7.
The meeting will start with an introduction to FGCU President Dr. Michael Martin.
Council will then be considering request for bids for disaster recovery services and debris monitoring, approving the ranking of the Estero Parkway design consultants and addressing fire service interlocal agreements with the Estero Fire Rescue and San Carlos Fire Rescue.
Following the meeting, Council will conduct a workshop to include a presentation by FDOT on the proposed I-75 and Corkscrew Road interim improvements plan.
The full agenda is available here: https://estero-fl.gov/agendas/
Village Council meetings are held in the Council Chambers, Village Hall, 9401 Corkscrew Palms Circle, near the entrance to the Estero Community Park.
Residents are invited to attend and comment on agenda items or they may watch the meeting online at: http://estero-fl.gov/council/watch-meetings-online/