Public Hearing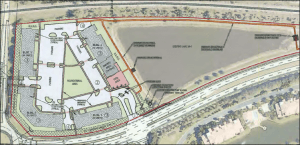 The Village Council approved the second reading of Ordinance 2017-02 relating to the rezoning of Coconut Point Tract 1A and L1 on July 26, 2017, with a number of conditions.
The conditions and deviations include, but are not limited to, an easement for public use of the lake which would include a pedestrian path and observation deck; enhanced landscaping in the median and roundabout in accordance with the Village's landscape design standards; a northbound right turn lane into the property; one point of ingress and egress, and the Village reserves the right to close or modify the Via Coconut/Via Villagio entrance median opening if determined for traffic safety purposes.
The applicant addressed the concerns of neighboring Palmetto Ridge in Shadow Wood by meeting with the president of the Homeowners Association.  The applicant is offering to fill in a gap in the landscaping by the Palmetto Ridge pool so there will be no line of sight to the pool from Tract 1A.

Otherwise known as Edera at Coconut Point, this 13-acre property is located south of Williams Road and on the east side of Via Coconut Point.
Edera will provide 180 rental apartments over parking in four, three-story buildings with elevators at a height of 45 feet.  Edera is expected to provide workforce housing for Hertz, Lee Health and others.  A 12 month lease will be required at an average rent of $1500, along with a proof of income, and there will be a limit on the number of adults per unit.
Included in the properties' amenities are an indoor recreational center with a community pool, green space in the center of the community and gathering spaces around the lake at the south end of the property. In addition, they plan to offer a bike sharing program and an on road trolley to Coconut Point and Lee Health.  A covered transit stop will also be added along Via Coconut Point. (Presentation)
Additional details are available in the minutes of this meeting.  Residents may also view the archived meeting by going to the Village website http://estero-fl.gov/council/watch-meetings-online/.
The next Council meeting will held at 9:30 a.m., Wednesday, August 2, 2017.