Ordinance No. 2017-04
This was a first reading and public hearing for this ordinance which would approve an amendment to the Village's Transitional Comprehensive Plan, allowing residential uses up to 10 units per acre on 43 acres located south of Corkscrew Road and approximately 1,000 feet west of the intersection of Corkscrew Road and I-75.
Council voted to accept the staff's recommendation to not transmit this amendment to the state until the Village's Comprehensive Plan has been completed.
Ordinance No. 2017-05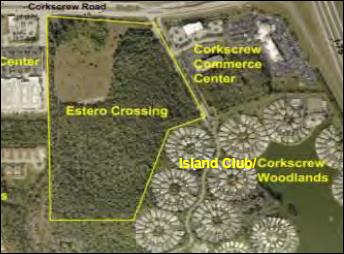 A first reading and public hearing was scheduled for this ordinance which would rezone this property from commercial to mixed use planned development which would allow a 350 unit multiple family project and commercial development.
The representative for Estero Crossing asked for a continuance of this item and Council voted in favor of continuing the first reading for this ordinance to a time uncertain.
Additional details are available in the minutes of this meeting.  Residents may also view the archived meeting by going to the Village website http://estero-fl.gov/council/watch-meetings-online/.
The next meeting will be at 9:30 a.m., Wednesday, May 31, 2017.