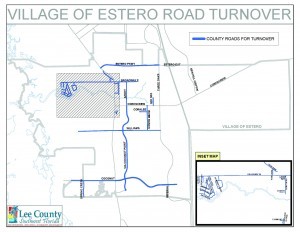 The Village Council agenda includes approval of the interlocal agreement with Lee County to take over certain roads by January 7 at their meeting at 9:30 a.m., Tuesday, December 20.
Council tabled discussion of the takeover of roads from their December 7 meeting in order to gather further information about taking over a portion of Corkscrew Road west of US 41.
Meetings are held in the Council Chambers, Village Hall, 9401 Corkscrew Palms Circle, near the entrance to the Estero Community Park.
The full agenda is available here: https://estero-fl.gov/agendas/
Residents are invited to attend and comment on agenda items or they may watch the meeting online at: http://estero-fl.gov/council/watch-meetings-online/