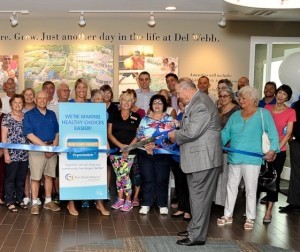 District 5 Councilmember Jim Boesch performed the ceremonial ribbon-cutting at the Tidewater community's March 2 celebration for becoming Estero's first homeowners association to be a recognized Blue Zones Project.
The goal of the Blue Zones Project at Tidewater is to inspire residents of the 55-and-up community to eat healthier, live longer and embrace new experiences.
To become a recognized Blue Zones Project, the community offered a variety of social educational and fitness activities to fully engage residents in everything from plant-based cooking demonstrations to pickeball and Wine at 5 events.
Tidewater is a Del Webb community located north of Everblades Parkway, south of Estero Parkway, east of I-75 and west of Ben Hill Griffin in Estero.