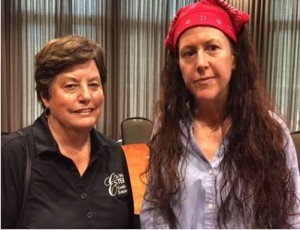 Councilmember Katy Errington attended the "It's all about the water" program at the Conservancy of Southwest Florida on June 22, 2017.
Other sponsors and participants were Dr. Karen Dwyer (pictured to the right of Councilmember Errington) with the Stone Crab Alliance, Food and Water Watch, ReThink Energy Florida, and Environment Florida.
The Village of Estero was recognized by the group for taking the lead in passing the first Resolution in southwest Florida to ban fracking.
It was reported since Estero took the lead with the first Ban Fracking Resolution that to-date, 22 Ordinances and 68 Resolutions have been passed which includes 34 counties. These figures represent 73.67% of Florida's total population.