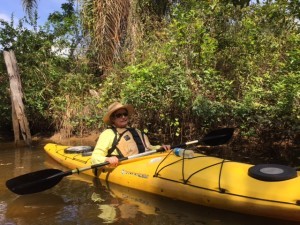 Councilmember Katy Errington and Peggy Phillips, College of Life Foundation, kayaked the section of river that the Estero River Task Force has identified as needing to be cleared of non-native species and downed limbs and trees.
Currently, there are many safety hazards in the River when traveling west to east, from the Koreshan State Park to Bamboo Island.  It is estimated that the Estero River has not been cleared of debris for at least 10 to 20 years.
Wanda Wooten, Lee County Natural Resources, is overseeing this project.