On Friday, November 20, 2015, the Lee County Metropolitan Planning Organization (MPO) voted to remove the extension of County Road 951 from their 2040 Transportation Plan.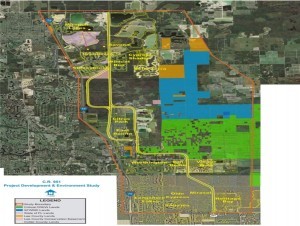 District 5 Councilmember Jim Boesch spoke to the MPO about the importance of removing this road from the Plan.  Village Mayor Nick Batos read the resolution from the Village Council requesting that the MPO remove the portion of the proposed CR 951 extension from Corkscrew Road to Alico Road from their 2040 Long Range Transportation Plan/Needs List.
Thousands of Estero residents have opposed the extension of this road due to the negative impacts it would have on the environment as well as property values.
The Lee County 2040 Transportation Plan is the 25-year vision of how to meet Lee County's transportation needs and expectations through 2040.  The Plan incorporates all types of travel including driving, walking, biking, public transportation and freight movement.
The MPO will vote on the final 2040 Plan at their December meeting.