Public Information Meeting
Park Place of Estero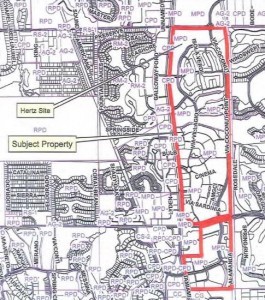 The applicant is requesting to reduce the number of previously zoned lots on their property from 26 to 16 single family homes.
This property is located at 9400 Block Lane, north of Williams Road and west of River Ranch Road.
The applicant plans to add a water management lake at the entrance to their community with a public bench and trees surrounding the bench.
They will provide price points for the homes when they come back before the Board. (Presentation)
Public Hearing
Coconut Point Tract 1-A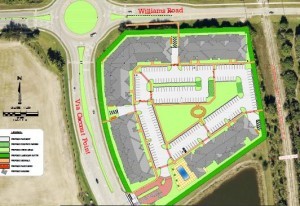 The applicant was requesting an amendment and deviations to allow 200 apartment units in four buildings on 6.62 acres. The property was previously approved by Lee County for 200 assisted living facility units.
This property is located east of Via Coconut Point and south of Williams Road in the Coconut Point Development of Regional Impact and Mixed Planned Development.
A Public Information Meeting was held before the Planning and Zoning Board on September 20, 2016.  This was a continuation of their public hearing before the Board on November 15, 2016. (Presentation)
Public Comment: 8 residents spoke against this proposed project.  In addition, members of the Board received 147 emails from residents opposed to the project.
Village staff recommended denial of this application (Staff Report).
Ned Dewhirst recused himself from the Board as he was a representative of the team making the applicant's presentation.  The remaining Board members voted 5-1 to recommend to Council that they deny this application.
Workshop
Comprehensive Plan
Village Consultant LaRue Planning and Management Services conducted a workshop on the Comprehensive Plan.
This will be the Village's first Comprehensive Plan, which is a future land use plan looking 5, 10 and 20 years into the future.  The plan is due to be completed by December 2017.  (Presentation)
A workshop will be conducted for the community sometime in mid-January.  A notice will go out as soon as the time and place has been determined.
Additional details are available in the minutes of this meeting.  Residents may also view the archived meeting by going to the Village website http://estero-fl.gov/council/watch-meetings-online/.
The next meeting will be at 9:30 a.m., Tuesday, January 17, 2016.