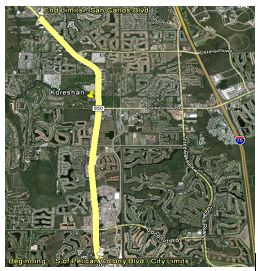 US 41 Lighting Project
Jeffrey Mednick, Project Manager from the Florida Department of Transportation, gave a presentation on the status of the upcoming US 41 lighting project which will start just south of Pelican Colony Blvd. and travel north 5.25 miles to San Carlos Blvd. The new lighting will be LED lights which reduce energy costs by up to 60 percent, have a 25-year lifetime and are recyclable. The lighting will cover six lanes of roadway as well as the sidewalks. The design for the $4.1 million project will be completed by April/May of 2016, with construction to start in August 2016, ending in February 2017. (See Presentation)
Council Business
Ordinance 2015-19, amending Chapter 34 relating to acid stimulation and hydraulic fracturing, was approved. This ordinance bans fracking and other well stimulation treatments within the Village of Estero boundary limits.
Council also approved Ordinance 2015-20, amending the Land Development Code, which revises the road fees using the most recent road impact fee study.
There was a first reading of Ordinance 2015-21 regarding the rezoning of 21.36 acres located at 9201 and 9301 Corkscrew Road from Commercial Planned Development to Residential Planned Development. This is the site of the Volunteers of America's proposed continuing care/assisted living project. A second reading of this ordinance, including a detailed presentation, is scheduled for January 13, 2016; public input will be taken at that time.
Council Communications
Councilmember Bill Ribble gave an update on the future council office space at 9401 Corkscrew Road. A contractor has been selected for the build-out of the new Village Hall. Additional costs need to be considered for furnishing the building as well as I.T. and video equipment. This will be discussed further at an upcoming workshop.
Additional information is available in the minutes of this meeting.