Public Hearings
City Mattress at Coconut Point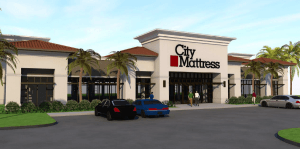 The Board approved the architectural and landscaping design for the stand-alone City Mattress store at Coconut Point.  The store, which is approximately 12,000 square feet, will be located close to US41 at the south end of Coconut Point Mall, just west of the Dillard's store. (See Presentation)
Florida Veterinary Referral Center
Representatives of a new, 24/7 critical care Florida Veterinary Referral Center facility asked to come back in January with changes to their current architectural and landscaping design plans.
The veterinary group, currently located at 9220 Estero Park Commons Blvd., is proposing to build a two-story, 16,000 square foot animal clinic in the Plaza del Sol on the east side of Three Oaks Parkway just north of Corkscrew Road.
Workshop
Shops at Estero Town Commons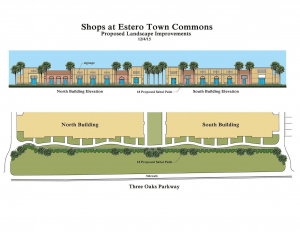 Representatives of the Estero Town Center requested input from the Board for proposed revisions to a portion of their existing building on the west side of their property.
The Center is located at the southeast corner of Three Oaks Parkway and Corkscrew Road.  They are proposing to expand a portion of their parking area and remove up to 45 palms in the back and front of their building, which they believe are obstructing the shop signs and contributing to the vacancies in the building.  They plan to replace the existing palms with fewer, smaller palms. (See Presentation)
Additional information is available in the minutes of this meeting.