Public Information Meeting
Estero Country Club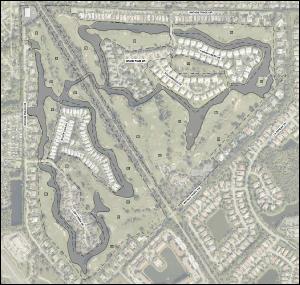 Representatives for the Estero Country Club gave a presentation on the proposed plans for renovating their 180-acre, Gordon Lewis golf course and golf cart parking area.
They will be redoing the tees, greens and bunkers and re-grassing the entire course as well as hardening some lake banks.  They also have a large number of exotics on the property which will need to be removed.  (Presentation)
Estero Country Club is located north of Estero Parkway and east of US 41.
Dunkin Donuts/Valvoline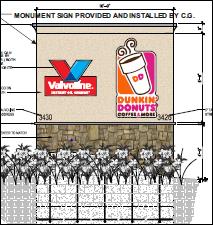 A representative for Dunkin Donuts gave a presentation on their proposed monument sign.
The Board stated the signage needs work as it is taller than it is wide which doesn't meet code and that it needs architectural detailing.  The current code calls for 25 percent of a monument sign to be architectural consistent with the building. (Presentation)
Public Hearing
Germain Arena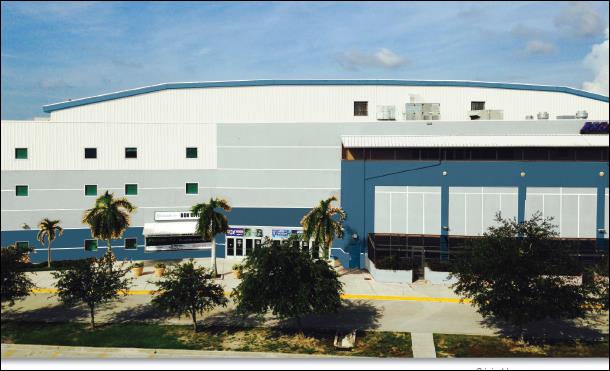 A representative for Germain Arena addressed changes made to the proposed repainting of the building's exterior following comments made by the Board on May 10.
Instead of painting the second level from the top with the Santorini Blue running the entire length of the building, they will paint the lower two sections of the building that color.  In addition, the blue paint will be used to accent segments of the building to break it up.  (Presentation)
The Board unanimously approved this application.
Comprehensive Plan and Land Development Codes discussion
There was a discussion about the Board making suggestions for items to be included in the Comprehensive Plan that the Village is now working on.
At their next meeting, the Board will focus on architectural theming between buildings and signage, and landscape design and buffering.
Additional details are available in the minutes of this meeting.  Residents may also view the archived meeting by going to the Village website http://estero-fl.gov/council/watch-meetings-online/.
The next meeting will be at 5:30 p.m., Wednesday, June 14, 2017.