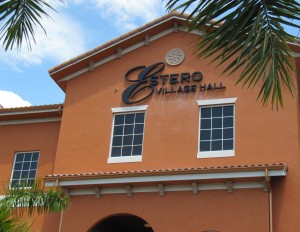 The Village Council will complete candidate interviews, followed by a discussion and appointment to fill the District 3 Councilmember vacancy at their meeting on Wednesday, June 21, 2017.
In addition, they will review a proposed bid package to provide roadway and landscape design services for Estero Parkway, request for quotations for disaster recovery services and disaster debris monitoring, among a number of other topics.
The full agenda is available here: https://estero-fl.gov/agendas/
Village Council meetings are held at 9:30 a.m. in the Council Chambers, Village Hall, 9401 Corkscrew Palms Circle, near the entrance to the Estero Community Park.
Residents are invited to attend and comment on agenda items or they may watch the meeting online at: http://estero-fl.gov/council/watch-meetings-online/