There will be a Public Information Meeting for the Estero Country Club at the Vines where they will present plans for renovating their golf course and golf cart parking area, and Dunkin Donuts/Valvoline will present plans for their monument sign.
Public Information Meetings are held to provide the Board and Estero residents with details about developer's plans.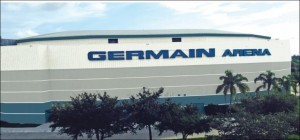 There will be a Public Hearing for Germain Arena's proposed repainting of the building's exterior.
Revisions have been made to the plans they presented at the May 10 Board meeting.
The Board will also hold a discussion on Land Development Codes.
The full agenda is available here: https://estero-fl.gov/agendas/
Residents are invited to attend and comment on the proposed projects or they may watch the meeting online at: https://estero-fl.gov/.
Design Review Board meetings are held at 5:30 p.m. the second and fourth Wednesday of each month in the Village Hall Council Chambers, 9401 Corkscrew Palms Circle, near the entrance to the Estero Community Park.