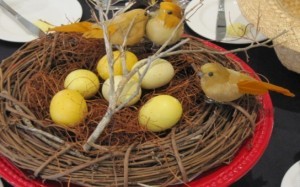 The Estero Historical Society held its Annual Tea fundraiser at Shadow Wood Country Club on Saturday, April 23, 2016.  Theme for this year's event was "Birds of a Feather Flock Together."
A large group filled the club's dining room, with many ladies wearing special hats for the occasion and each table featured birds and/or feathers.
Among the many in attendance were: Estero Mayor Nick Batos and wife Linda, Vice-Mayor Howard Levitan and wife Rebecca, Councilmember Jim Boesch and wife Diane, Councilmember Katy Errington, Councilmember Bill Ribble and wife Joanne, Councilmember Jim Wilson, Estero Chamber of Commerce Chairman Gene Montenieri, founding members of the Estero Council of Community Leaders Don Eslick and wife Suzie, and Neal Noethlich and wife Marilyn.
Estero Historical Society President Charles Dauray and Vice-President Beverly MacNellis served as masters of ceremony and PJ Marinelli, President of Audubon of the Western Everglades, was the key note speaker.
Congratulations to Diane Boesch who was one of three winners for most creative hats in the house.
This special event is just one way the group raises funds to preserve Estero's history.  For further information or to see more photos, go to http://esterohistoricalsociety.com/.
This slideshow requires JavaScript.