All of the Village Council members and Interim Village Manager Peter Lombardi were among the many residents and media attending the grand opening of the Estero Walmart at 7:30 a.m., August 26, 2015.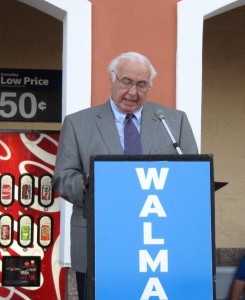 Mayor Batos read a proclamation from the Village of Estero which included:
"Whereas, the Village of Estero Walmart has demonstrated the importance it places on community spirit through its collaboration with its neighbors and its excellence in design; and
Whereas the Village of Estero supports and welcomes Walmart and looks forward to an ongoing partnership as both strive to enrich the community with local business and excellent service."
During the ceremony, Walmart presented checks for several thousand dollars to a number of local charities.
Located on Estero Parkway and U.S. 41, the 183,000-square-foot store includes a full pharmacy and a grocery store with produce, deli and a bakery.
Walmart said the store will employ about 300 people in full-time and part-time positions.