Arcos Executive Center – Public Information Meeting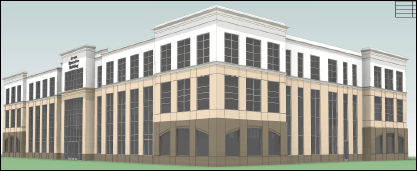 The applicant is proposing to build a 70,000 square foot, 3-story office/retail building in the Plaza Del Sol located at the corner of Corkscrew Road and Three Oaks Parkway.
They are requesting an increase in maximum square footage from 37,200 sq. ft. up to 70,000 sq. ft. to accommodate larger businesses along with some retail use.  They are also requesting an increase in maximum height from a 35 ft., two-story building to a 45 ft., three-story building because of the limited visibility due to the existing oak tree canopies.
In addition they will be asking for an increase in setback of the building from 45 ft. to a maximum of 120 ft. in order to maintain the existing oak trees.
Regarding landscaping for this development, their primary objective is to save the existing oak and palm tree clusters.  In addition they are proposing native content to include royal palms and Montgomery palms.
Board comments included asking for photos of the existing oak trees to be presented at a future meeting, concern about placing the dumpster along Corkscrew Road, lack of pedestrian connections to the veterinary clinic, massing of the building and no variation in the roof lines of the building.
No voting occurs at Public Information Meetings.
Dunkin Donuts monument sign – Public Hearing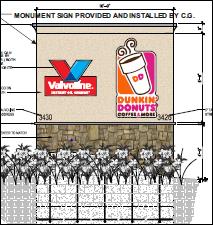 A representative for Dunkin Donuts/Valvoline presented their new proposal for their monument sign.  Their last proposal was on May 24.
They have since added architectural detailing and made both company signs the same size.
The Board approved the new signage with conditions which included the fact that the sign needs to comply with the lighting code, i.e., the box is lighted from the soffit vs backlight.
Dunkin Donuts is located in the Grand Oaks Shoppes at Corkscrew Road and Ben Hill Griffin Parkway.
Land Development Code amendments
The Board focused on architectural theming between buildings and signage, and landscape design and buffering.
Additional details are available in the minutes of this meeting.  Residents may also view the archived meeting by going to the Village website http://estero-fl.gov/council/watch-meetings-online/.
The next meeting will be at 5:30 p.m., Wednesday, June 28, 2017.