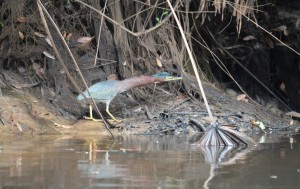 Experience diverse habitats in the comfort of a sea kayak where you will be able to experience Mother Nature first hand including sea grass beds, mangrove islands, salt marshes, tidal flats and oyster bars.
Roseate Spoonbill, Great Blue Heron, Little Blue Heron (shown here), Osprey and an occasional Eagle may be seen along the kayak routes.  Manatee and dolphin are frequently spotted as kayakers meander around the mangrove islands.
The College of Life invites everyone to explore Florida's first aquatic preserve with them. Hike to the cultural center of the Calusa Indians.  They will guide you through the historic beauty of the Estero River.
Beginners are welcome. Take kayaking off of your bucket list with private lessons.  Many adventures await you and your friends.  As an American Canoe Association Paddle America Club, their patient guides are Certified Kayak Instructors and are Florida Master Naturalist, CPR, and First Aid certified.
Tours are offered at 9:30 am and 1:30 pm daily. All equipment is included. Tours start at $45. Call (239) 992-2184 to book your tour today.
The College of Life also has an informative presentation about the history of southwest Florida, emphasizing the Koreshan Unity and their role here.
Visit www.collegeoflifefoundation.org or email esteronaturalist@gmail.com for more information.  You may contact them anytime with questions and to book a tour.