Public Hearings
Total Wine and More

The Board approved a resolution allowing Total Wine and More to offer educational seminars and tasting events at their new store at Coconut Point Mall.  This action repealed an earlier resolution approving a 3APS liquor license and approved a 4COP liquor license.
This store will be located at 8012 Mediterranean Drive, the former site of Sports Authority.  They plan to make some modifications to the entrance of the building and to be open by the fall of 2017.
Coconut Retail Center


The Board approved a minor change in the setback of two newly constructed buildings on US 41 across from Coconut Point Mall.
During construction, an error in the layout of the buildings resulted in the minimal encroachments in a few locations when the plaster/stucco was added.
This project is located at the northeast corner of Lyden Drive and Bulb Lane, just south of the new Autumn Leaves memory care facility and across US 41 from Coconut Point Mall.   (See Presentation)
Estero Crossing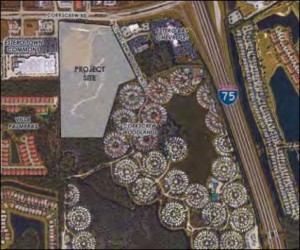 Representatives of Estero Crossing LLC requested approval of an amendment to allow residential use at a maximum density of 10 units per acre on their 43-acre property located south of Corkscrew Road and approximately 1,000 feet west of the intersection of Corkscrew Road and I-75.
They also requested to rezone this property to mixed use planned development with a maximum of 350 apartments, 60,000 square feet of commercial use and a convenience food and beverage store and gas station with 18 pumps.  This site is currently zoned for commercial uses only.  (Presentations One and Two)
Twelve residents from the neighboring Corkscrew Woodlands and Island Club, as well as the Estero Council of Community Leaders' Transportation Committee, spoke of their concerns about traffic and safety, a 24-hour convenience store and gas station, among other concerns.
The Board voted to continue this to a time certain of 1 p.m., Tuesday, March 21.
Additional details are available in the minutes of this meeting.  Residents may also view the archived meeting by going to the Village website http://estero-fl.gov/council/watch-meetings-online/.
The next meeting will be at 1 p.m., Tuesday, March 21, 2017.