Council Business
Council approved a Notice of Competitive Negotiation for the Village Manager to seek continuing professional consultant engineering services to act in the capacity of Village Engineer.
Over the past several months, a need has arisen for engineering-related expertise in several areas.  These services are required for the development of the Village's first Capital Improvements Plan.  A competitive negotiation process could result in a pool of consultants which could be utilized for different issues, as the need arises.
Estero WAS Partners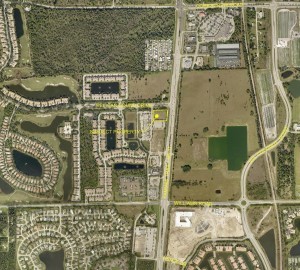 Council approved the first reading of Ordinance 2016-02.  Estero WAS is requesting to rezone 1.36 acres from Mixed Use Planned Development to Commercial Planned Development, for the development of up to 15,000 square feet of commercial uses, including a fast-food restaurant.
This property is located on the west side of US 41, south of Pelican Sound Drive, and is 640 feet from the Pelican Sound residential community.
Staff was asked to address their recommendations, and the recommendations made by the Planning & Zoning Board, at the second reading and public hearing scheduled for March 9, 2016.
Council workshop
A discussion was held regarding a proposed increase in the annual compensation for Councilmembers.  Councilmembers are currently paid $6,000 per year, with the Mayor being paid $9,000 per year.  In comparison, the Bonita Springs' Councilmembers are paid $16,946.88 and the Mayor is paid $22,595.88 annually.
Village Attorney Burt Saunders was asked to draft an ordinance recommending Councilmember salaries be comparable to those in Bonita Springs, with no provision for health benefits or pension.  If the Council takes action to change the level of compensation, the salary of Councilmembers will not be adjusted until after the first day after the next regular municipal election, which would be in March 2017.
Public input on non-agenda items
Charles Dauray and Peg Phillips, College of Life Foundation, talked about the fact that thousands of visitors have taken their kayaking tours on the Estero River, which is a designated Florida Paddling Trail.  They stated there is a need to correct an "eyesore" along the River. There is graffiti on the Seminole Gulf Railway bridge and concrete abutments which are highly visible to those visitors traveling along the River.  The College of Life has received approval from the railroad to paint over the graffiti.
Wanda Wooten, Lee County, will be leading the restoration project along the River, treating and removing non-native species, removing downed limbs and trees.
Additional information is available in the minutes of this meeting.