Public Hearing
Florida Veterinary Referral Center

Representatives for the Estero Veterinary Referral Center came before the Board to request approval for a Development Order.  A Development Order is required before any site work can proceed.
The Florida Veterinary Referral Center is planning to build a two-story, 16,000 square foot animal clinic to provide 24/7 critical care and emergency services, radiology, internal medicine, surgery and oncology.
Their plans include an enclosed courtyard on the north side of the building for the animals.
This property is located at 10100 Arcos Avenue in the Plaza Del Sol on northeast corner of Three Oaks Parkway and Corkscrew Road.
The applicant had given a presentation on their project at a Public Information Meeting before the Board on March 22, 2017, as well as Workshops on May 25 and June 28, 2016.
The Board unanimously approved this request.
Information Meeting
Springs at Estero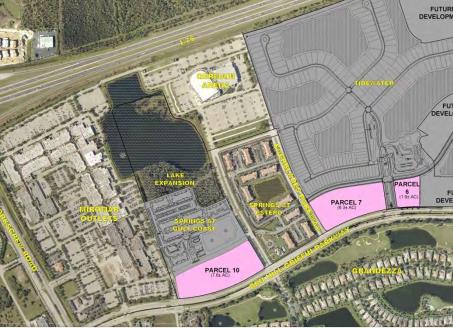 The applicant had been asked by their neighboring community of Grandezza to enhance the buffer along Ben Hill Griffin Parkway on the existing Phase 1 project formerly approved by Lee County.
Additional trees and shrubs will be planted to provide an aesthetically pleasing view along that portion of Ben Hill Griffin Parkway. This property is north of Miromar Outlet Drive and west of Ben Hill Griffin Parkway.
No decision was required as this was an information meeting.
Board Communication: The Board discussed proposed Land Development Code changes and the possibility of adding landscape design to the Code that would be flexible, with a distinction between landscaping and buffering.
The Board will review the documents further and come back for another discussion.
Additional details are available in the minutes of this meeting.  Residents may also view the archived meeting by going to the Village website http://estero-fl.gov/council/watch-meetings-online/.
The next meeting will be at 5:30 p.m., Wednesday, April 26, 2017