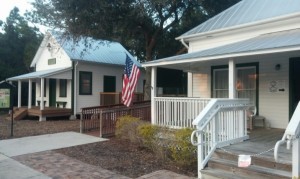 The Estero Historical Society is holding a grand opening of the historic 1904 Estero Creek Schoolhouse at 11 a.m., Saturday, March 5 at the Estero Community Park, 9200 Corkscrew Palms Blvd.
The school was originally built as a one-room school, which expanded to two rooms in 1911.  The school closed when the new, four-room Broadway Estero School was opened.
Tours of the schoolhouse and cottage will begin immediately following the ceremony.
All residents are invited to attend this special event.