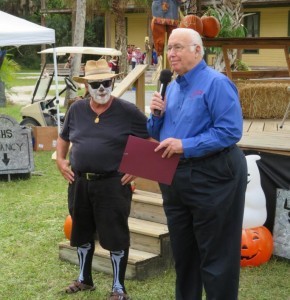 A large crowd of costumed children and adults turned out to be part of the 3rd Annual Family Halloween Festival at the Koreshan State Historic Site on October 29, 2016.
Mayor Nick Batos kicked off the event with a proclamation from the Village Council.
The family-friendly event included treats without tricks, face-painting, hay rides, music, a parade, and a costume contest.
Estero Fire Rescue demonstrated one of their fire engines.  Other groups enjoying the festivities and sharing information included the South County Regional Library, Estero Historical Society and the College of Life Foundation.
Even the weather was perfect for the event with a cool breeze wafting the smell of hotdogs throughout the grounds.
This was just one of many events planned at Estero's special park this season.
This slideshow requires JavaScript.