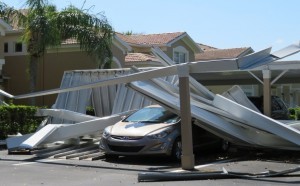 There were a large number of communities and single-family homes in Estero affected by the hurricane, including the loss of power, flooding in the streets and decimation of some of the Village's attractive landscaping.
The good that came out of the storm was that neighbors reached out to help others.
Embassy Suites, at 10450 Corkscrew Commons Drive, housed many of the first responders in Estero.  On the eve of the hurricane, Jim Cantori of the Weather Channel broadcasted from the lobby of the Embassy Suites.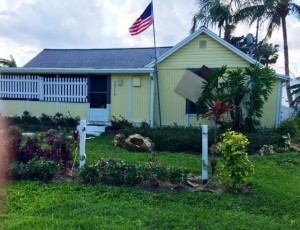 The owner of a home on Sandy Lane gave all his hurricane supplies to family members who needed them so he found what he could to board up his windows, including his picket fence.
Most noticeable when driving around the Village is the impact on landscaping, including large, older trees ripped from the ground, split in half or still standing but with many of their leaves missing.
We're happy to say that Estero's residents made it through the storm, frustrated perhaps, but with no reported injuries.
Trees and landscaping can be replaced.
This slideshow requires JavaScript.