Village Center Public Workshop, Tuesday, January 12, 5:30 p.m., Living Waters Church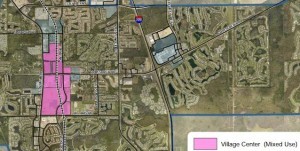 A Village Center, where people can walk, bike or drive to a variety of activities, will be discussed at a Village of Estero public workshop at 5:30 p.m., Tuesday, January 12, at the Living Waters Church, 22100 S. Tamiami Trail (across from Hertz headquarters).
The Village's planning consultants, Bill Spikowski and Seth Harry, will update the public on steps that are being taken to enable this vision and will seek public input on incentives that might be granted to developers in the Village Center area in return for public benefits developers may offer to provide.
Village Council Zoning Hearing re Volunteers of America's proposed continuing care facility, Wednesday, January 13, 10 a.m., Estero Fire Rescue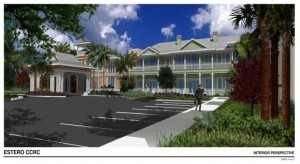 There will be a quasi-judicial hearing regarding the rezoning of the 21.36 acres located at 9201 and 9301 Corkscrew Road (corner of Corkscrew Road and Sandy Lane) from commercial to residential for the Volunteers of America's proposed continuing care and assisted living facility.  The project would allow up to 340 beds and would include independent and assisted living apartments to skilled nursing and memory care.
Village Council Workshop, Raptor Bay update, Wednesday, January 13, 2 p.m., Estero Fire Rescue
The Village Council will discuss WCI Communities' proposal to rezone a portion of Raptor Bay Golf Club in order to build four 22-story high rise towers north of the former Weeks Fish Camp at the western end of Coconut Road in Bonita Springs.
Other activities which may be of interest
Lee Memorial Healthy Life Center Open House, Thursday, January 14, 5:30 – 7 p.m.
Lee Memorial will be holding an Open House for their new Healthy Life Center at 23910 Fashion Drive, Coconut Point, on January 14.
The Healthy Life Center has a number of future community events planned, including health and wellness seminars, nutrition tips and cooking demonstrations.  Call 239-343-9207 for further details.
Koreshan State Historic Site
Art Hall, Saturday, January 16, at 11 a.m. – Lyn Millner will relay stories about the Koreshans' struggles to build and incorporate the village. Lyn is the author of the first book-length work about the Koreshans, "The Allure of Immortality: An American Cult, a Florida Swamp, and a Renegade Prophet."  Park Admission fee is $5 per carload or $4 for one person.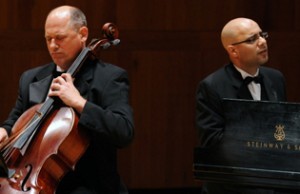 Art Hall, Sunday, January 17, 4 p.m. – Estero Concert Series
Gifted musicians will present Franz Schubert's spirited Piano Trio No. 2 in E-flat major and Cesar Franck's emotional Piano Quintet in F minor at the Estero Concert Series' performance at 4 p.m., Sunday.
Tickets are available at $40 per person; this price includes entrance to the park.  Reservations may be made by calling (239) 596-8404 or emailing rcc@rccnaples.org.
Koreshan State Historic Site Farmers' Market, every Sunday, 8 a.m. – 1 p.m.
Experience a unique Farmers' Market in the historic settlement of the Koreshans.  Fresh and local goods including seafood, beef, flowers, honey, vanilla, key lime goodies, coffee & teas, hot crepes, artisan breads, produce, handmade crafts and more. Park admission is free for the Farmers' Market, but a $1per car environmental impact fee applies.