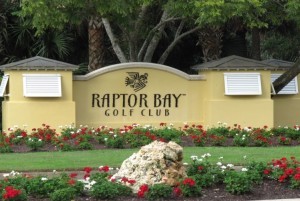 The Village Council conducted a special meeting to review options to challenge the proposed WCI development of four 22-story high rise towers in Raptor Bay Golf Club.
This proposed development is located north of the former Weeks Fish Camp at the western end of Coconut Road in Bonita Springs.
Village staff, Mayor Nick Batos and Village Manager Steve Sarkozy already have been in contact with their Bonita Springs' counterparts to let them know of Estero residents' concerns about the negative impacts to traffic, safety and the environment associated with this proposal.
Land use attorney Nancy Stroud outlined several legal alternatives should talks with Bonita Springs prove unproductive. That city will be addressing a change to their comprehensive plan to accommodate this development proposal on February 3, so any type of challenge to that action by Estero would have to happen very quickly.
Village staff will meet with Lee County staff to determine whether they would support Estero in challenging this proposed development as Coconut Road is a county road.  In addition, a traffic study will be conducted and Stroud will look into legally challenging Bonita Springs on the annexation of Raptor Bay and the comprehensive plan amendment.
Estero residents along Coconut Road have formed a group called the Coconut Road West Neighborhood Coalition due to their concerns regarding this proposed development.