The Village Council's first zoning hearing had to be continued after three hours due to the length of the presentation, number of public speakers from the neighboring Estates at Estero River and another scheduled meeting.  The hearing will be continued at 9 a.m., January 20.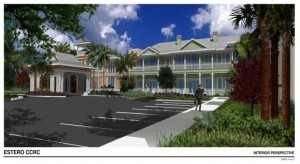 The Volunteers of America is requesting to rezone a 21-acre parcel on the east side of Sandy Lane and Corkscrew Road from commercial to residential for a 340-bed continuing care retirement community.  The Planning and Zoning Board approved this project, with conditions, on November 17.
The proposed Colonnade of Estero would range from independent and assisted living apartments to skilled nursing and memory care. The community could also include a medical office.  The developers anticipate there would be 160 employees at build-out.