Public information meeting
A public information meeting was held for Meadows of Estero, a gated community located on both the north and south side of Pelican Sound Drive, on the west side of US41.  The applicant is requesting deviations from setback requirements for new monument signs to be placed at the three different entrances to their community.
The deviations are being requested due to line of sight problems associated with a wall and a buffer area.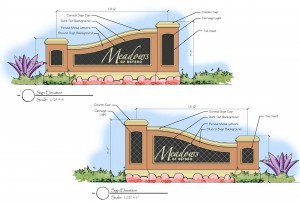 The community currently has three entrance signs which are each different from the other.  They plan to remove those and replace them with uniform monument signs for a cohesive look.  They also plan to use small columns and ornamental gates to enhance the entrances.
The applicant will go before the Design Review Board to review the aesthetics of the signage and then return to the Planning & Zoning Board for approval of the setback deviations.