FGCU Infrastructure Study of Estero
A presentation was given by the FGCU Engineering and Planning Team regarding their assessment of the condition of the Village of Estero's infrastructure.  The criteria for their study included connectivity, safety, access and usage.
They analyzed road pavement conditions, sidewalks, bike lanes, crosswalks and landscaping, as well as provided data for public input and prioritization.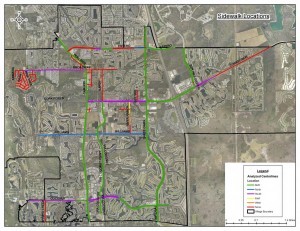 The results of their study indicated that 68 percent of the roads in Estero are in good condition, 20 percent should be revaluated in the next 2 – 3 years, and 12 percent need immediate attention.
It was noted that sidewalks are inconsistent or non-existent in many areas, especially along Estero Parkway, Sandy Lane, Corkscrew Road as well as along River Ranch Road where young people are walking to the high school.
The lack of landscaping along the medians was addressed, with Estero Parkway at US41 and Via Coconut Point given the highest priority for installation or improvement.
They described "lane dieting" which is a term used for making biking safer.  In some communities, automobile lanes are being reduced in width to 11 feet, allowing for a larger and safer bike lane.  This is done strictly be repainting the lanes and it's been found that drivers tend not to speed as much with the narrower lanes, also making it safer for the bikers.
A public workshop is planned this spring to garner community input.
Comprehensive Plan Process
Community Development Director Mary Gibbs gave a presentation on the Comprehensive Plan process.
Gibbs explained that all counties and cities in the state of Florida are required to adopt a comprehensive plan which is used to guide future development.  Estero is currently using the Lee County Comprehensive Plan.  The Lee Plan currently includes Estero-specific policies for architecture, landscaping and signage.  However, the state statute requires the city to initiate its own plan within 3 years of incorporation, which is December 31, 2017.
The required elements in the comp plan are: future land use, transportation, community facilities, conservation, recreation/open space, housing, coastal management and intergovernmental coordination.
Gibbs pointed out that the existing plan can be used as a basis but additional recent study results can be incorporated into the plan, including the FGCU infrastructure study, Estero Community Market Assessment, the Village Center plan, and Estero Community Improvement Foundation's survey.
Gibbs recommended Council request the Village Manager submit an RFQ for a consultant to aid the village in completing this plan.