The Volunteers of America's request to rezone the 21-acre parcel on the east side of Sandy Lane and Corkscrew Road from commercial to a mixed use residential development for a continuing care retirement community with medical center was approved, with conditions.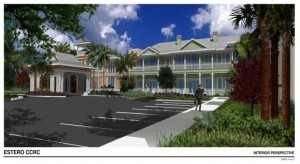 The applicant was asked to provide a pattern book to implement "Old Florida" architectural design for the on-site buildings to assure they all follow the same design during the various phases of building.
Regarding the project's landscaping, they were asked to assure that the area for the proposed medical building be grassed over prior to being built, vs bare ground.  They are using an enhanced landscaping plan throughout the community and will include 20-foot tall trees along the wall at the northern portion of their property to improve the appearance for their neighbors in the Estates of Estero River, as well as their own residents. In addition, they will have a two-foot tall berm with shrubs to screen the parking area on the south side of the property facing Corkscrew Road.
The applicant plans to meet with residents of the Estates of Estero River again; they have already met with a number of these residents on four different occasions.
The proposed Colonnade of Estero will include 340 beds ranging from independent and assisted living apartments to skilled nursing and memory care. The developers anticipate there will be 160 employees at build-out.