Public Information Meeting
Representatives of Estero Town Commons reviewed a number of changes they are suggesting to make on their property at the southeast corner of Three Oaks Parkway and Corkscrew Road.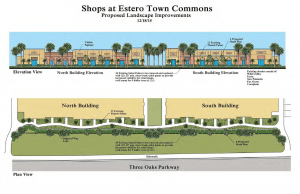 They are proposing to build a 10,000-square foot building, construct an access drive, and add additional parking spaces to the north.
They also stated the biggest issue they have is the current landscaping along Three Oaks Parkway.
They intend to remove 34 sabal palms which they state is a "wall of bark" with the palm fronds obscuring the signage of the individual businesses.  They would replace these trees with 22 sabal palms and possibly four slash pines, which would be strategically placed so that they would not screen the various business signs.
The Coastal Village presentation was postponed.
Additional information is available in the minutes of this meeting.