Council Business
There was a first reading of Ordinance No. 2016-01 approving the third budget amendment for FY 2015-2016 due to an additional, one-time expenditure of $200,000 associated with occupying the new Village Hall building in March.
Resolution 2016-01, supporting the Lee County Multijurisdictional Program for Public Information, was approved.  This is an outreach program to broaden the public's understanding of flood hazards, mapping and insurance.  Approving this program allows points to be assigned to Estero's Community Rating System and helps to reduce the cost of insurance for village residents.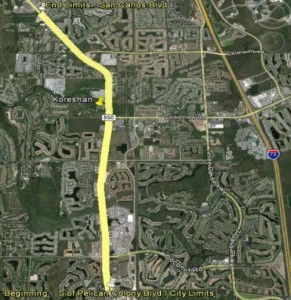 Resolution 2016-02, the roadway lighting system maintenance agreement between the Village of Estero and the Florida Dept. of Transportation, was approved.   The electric and maintenance cost for nine months is approximately $6,200.
A new roadway lighting project is planned for US41 starting just south of Pelican Colony Blvd. and traveling north 5.25 miles to San Carlos Blvd. The new lighting will be LED lights which reduce energy costs by up to 60 percent, have a 25-year lifetime and are recyclable.   The design for the project will be completed by April/May of 2016, with construction to start in August 2016, ending in February 2017.
Resolution No. 2016-03 was approved.  This authorized the Village Manger to waive competitive bidding procedures for contracting with Summit Broadband for high-speed internet, phone equipment and associated services at the new Village Hall.  This waiver was requested due to the tight timeline associated with moving into the new building in March.
Village Manager Steve Sarkozy stated that the February 3 and 17 Council meetings will need to be rescheduled to February 10 and 24 due to conflicts with the Estero Fire Rescue scheduled use of the building.
Council workshop
WCI development could impact Coconut Road
WCI Communities is proposing to rezone a portion of Raptor Bay Golf Club in order to build four 22-story high rise towers which would house 700-800 residents north of the former Weeks Fish Camp at the western end of Coconut Road in Bonita Springs.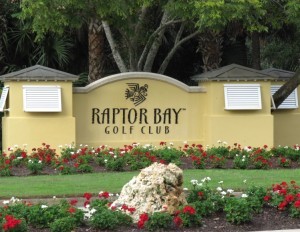 The Bonita Springs Zoning Board voted to recommend the City Council turn down this zoning request.  In the meantime, a proposed amendment allowing for this change to the city's comprehensive plan has been sent to the state for approval.
Estero residents along Coconut Road have formed a group called the Coconut Road West Neighborhood Coalition and have hired a land planning consultant and an attorney in order to fight this proposed development.
Fourteen citizens spoke before the Village Council stating their concerns which dealt primarily with traffic, safety and evacuation issues on this road which cannot be widened, as well as environmental concerns.
Mayor Nick Batos and Village Manager Steve Sarkozy met with their Bonita Springs' counterparts on January 5 to let them know of Estero residents' concerns.
Land Use Attorney Nancy Stroud will be asked to provide the Village Council with detailed information about how they may proceed on this issue in the future.