Consent Agenda
Tidewater replat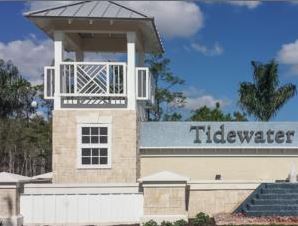 A representative for Tidewater requested to replat 115 lots covering approximately 56.32 acres in their development.
Plats identify the location of properties for public records.
Tidewater is a Del Webb community featuring seven home designs and is located north of Everblades Parkway, south of Estero Parkway, east of I-75 and west of Ben Hill Griffin.
Community Development Director Mary Gibbs stated that this request meets all of the state statutes.  The Board voted to recommend Council approve this request.
Public Hearing
Via Coconut
Representatives of Focus Group LLC are applying to rezone 19.3 acres to Estero Planned Development to allow for 297 dwelling units and a maximum of 30,000 square feet of commercial and/or retail space.
This property is located at the southwest corner of Corkscrew Road and Via Coconut Point.
The applicant is also requesting deviations from the Land Development Code.
The Planning and Zoning Board continued this rezoning request from the June 21, 2016, meeting.  A Public Information Meeting was held on August 25, 2015.
Staff recommended a further continuance of this case in order for them to review the newly revised Pattern Book and deviations, and to prepare a report prior to review by the Planning & Zoning Board and then by Council.  The Board voted to continue the case.
Additional details are available in the minutes of this meeting.